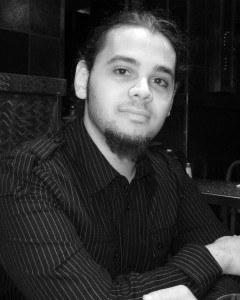 I was born in New York City, I was raised in the Catskill Mountains. After strengthening my vocal chords yodeling in the hills, I was accepted to Fiorello H. LaGuardia High School of Music & Art and Performing Arts for vocal music and moved back to NY. (Just kidding about the yodels).
My true passion and creative spirit emerged in IT technology, and after receiving my Associates Degree from BMCC, I took some time off to work. Unfulfilling – okay, boring, employment sent me running back to school. I finished my Bachelor's Degree in Media Studies at CUNY Hunter, and became a DJ and eventually the Media Director of the school's radio station, WHCS.
Working in the tech and creative arena, I have been a web designer, media producer and IT consultant for companies and organizations including BMG/Universal's Get Music, Tribeca Performing Arts, Video Game Buddy and TanDao. I design t-shirts and am four episodes in to my online show, NYC Pizza Adventure.
Working and DJing at the radio station, I instantly fell in love with the medium and wished to develop my skills further, this lead to starting the Doing the Job podcast.